Preparation time: approx . 20 minutes, plus approx. 30-45 minutes cooking time for the potatoes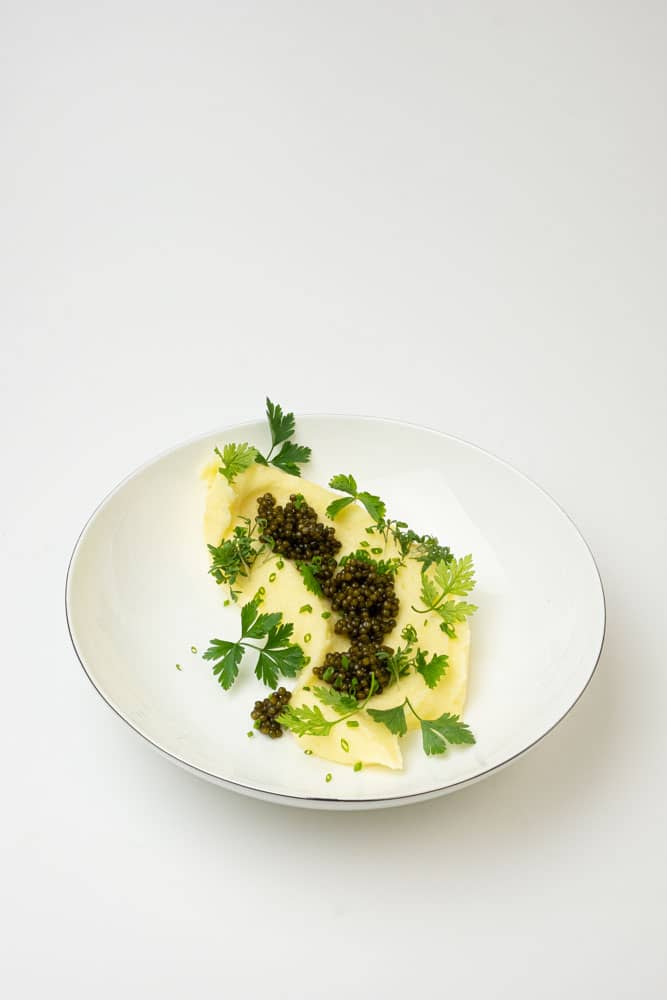 A match made in heaven!
The airy, creamy mashed potatoes are refined with butter and crème fraîche. A hint of salt and the simple recipe is ready, refined with caviar and a feast for guests too.
Our tip:
Salt the puree sparingly, the aromatic caviar rounds off the dish. Caviar loves fine green herbs such as parsley, chervil and dill, as well as cress, burnet pepper and borage, combining and varying them individually according to the market situation and taste. Exceptions are rocket, basil and tarragon, which can drown out the fine aroma of the caviar.
ingredients
1 kg mealy potatoes
salt
150ml milk
100 grams of butter
150 ml crème fraîche
A handful of spring herbs*
A few stalks of chives
125-200 g Imperial Caviar Selection
preparation
Wash the potatoes and boil them in salted water with their skins for about 30-45 minutes, depending on their size. Drain potatoes and let steam evaporate slightly.
Peel the potatoes and press through a potato ricer into a saucepan. Press the potato snow through the sieve again to create a really velvety puree.
Let the butter and milk simmer in the saucepan, slowly heat the potato snow in it over a moderate heat using a wooden spatula in sliding movements. Stir the crème fraîche into the steaming puree, season with a little salt.
Pluck herbs, cut chives into fine rings. Spread the puree on warmed plates, garnish with herbs and caviar, serve immediately.
Bestellen Sie online: Kaviar, Wagyu, Saucen – Lieferung in 24h.
Unsere Liebe zum Produkt spiegelt sich in unserer gesamten Arbeit wider: Vom ausgezeichneten Geschmack jedes einzelnen Kaviars bis zum komfortablen Kundenservice sowie einer Lieferung binnen 24h. 
Weitere Rezepte rund um unsere Produkte
Unsere Kaviar-Kreationen, Imperial Wagyu, Saucen und weitere Produkte benötigen nicht viele Zutaten und sind genau deshalb wahre Gaumenfreuden. Vor allem setzen sie unsere großartigen Delikatessen perfekt in Szene. Begeistern Sie sich – und Ihre Gäste!
Manuka honey carrots from the oven Preparation time: approx. 10 minutes (+ 1 hour salt time for the carrots, 30 …