Oysters with caviar, dill, chives, cucumber and buttermilk foam
Preparation time: approx. 25 minutes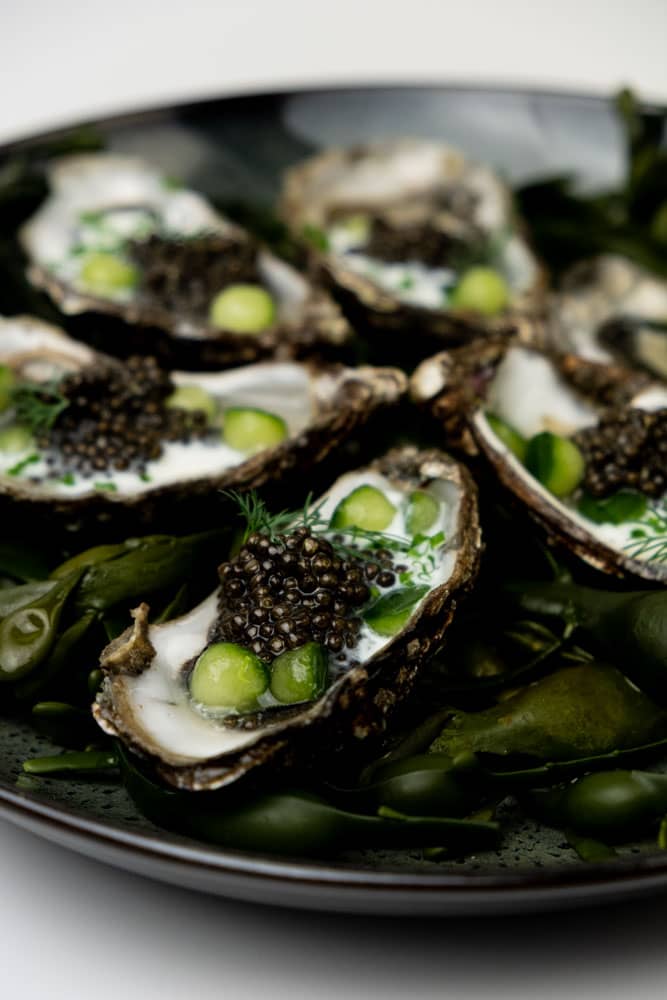 A touch of the sea!
The most beautiful celebrations begin with oysters – in combination with caviar they become an exclusive experience – the caviar is finely salty and aromatically fresh, plus the clear oyster with the scent of the sea and summer days on the beach.
Our tip:
The grey-green algae, on which French oysters in particular like to rest in the wooden box, turns bright green after 2 minutes of boiling in water! Immediately cool the seaweed in cold water, drain and arrange the oysters on top.
ingredients
150 g cucumber
salt
white wine vinegar
12 oysters
50ml buttermilk
1 tbsp creamy yoghurt
preparation
Finely dice the unpeeled cucumber flesh or (as in the picture) cut into balls with a pearl cutter (3 per oyster) and season lightly with salt and a dash of white wine vinegar. Put aside.

Place the oysters, dished side down, in a folded kitchen towel. Use an oyster knife (or a screwdriver) to gently pry open the top of the oyster (protect your hand with an oyster glove or another towel).

Cut the upper muscle of the oyster with a knife and open the shell. Remove the oyster from the bottom shell as well. Remove small fragments of mussel shells from the oyster water (preferably with a brush), but not the water itself.

Scatter the cucumber pearls over the oysters. Mix the buttermilk with the yoghurt until fluffy. Arrange the oysters, top with caviar and some buttermilk foam, serve immediately.
Bestellen Sie online: Kaviar, Wagyu, Saucen – Lieferung in 24h.
Unsere Liebe zum Produkt spiegelt sich in unserer gesamten Arbeit wider: Vom ausgezeichneten Geschmack jedes einzelnen Kaviars bis zum komfortablen Kundenservice sowie einer Lieferung binnen 24h. 
Weitere Rezepte rund um unsere Produkte
Unsere Kaviar-Kreationen, Imperial Wagyu, Saucen und weitere Produkte benötigen nicht viele Zutaten und sind genau deshalb wahre Gaumenfreuden. Vor allem setzen sie unsere großartigen Delikatessen perfekt in Szene. Begeistern Sie sich – und Ihre Gäste!
Grilled Akami Rump Steak with Grated Radish, Flake Salt and Sichimi Togarashi Preparation time: approx. 15 minutes Rump steak with …