Manuka honey carrots from the oven
Preparation time: approx. 10 minutes (+ 1 hour salt time for the carrots, 30 minutes cooking time)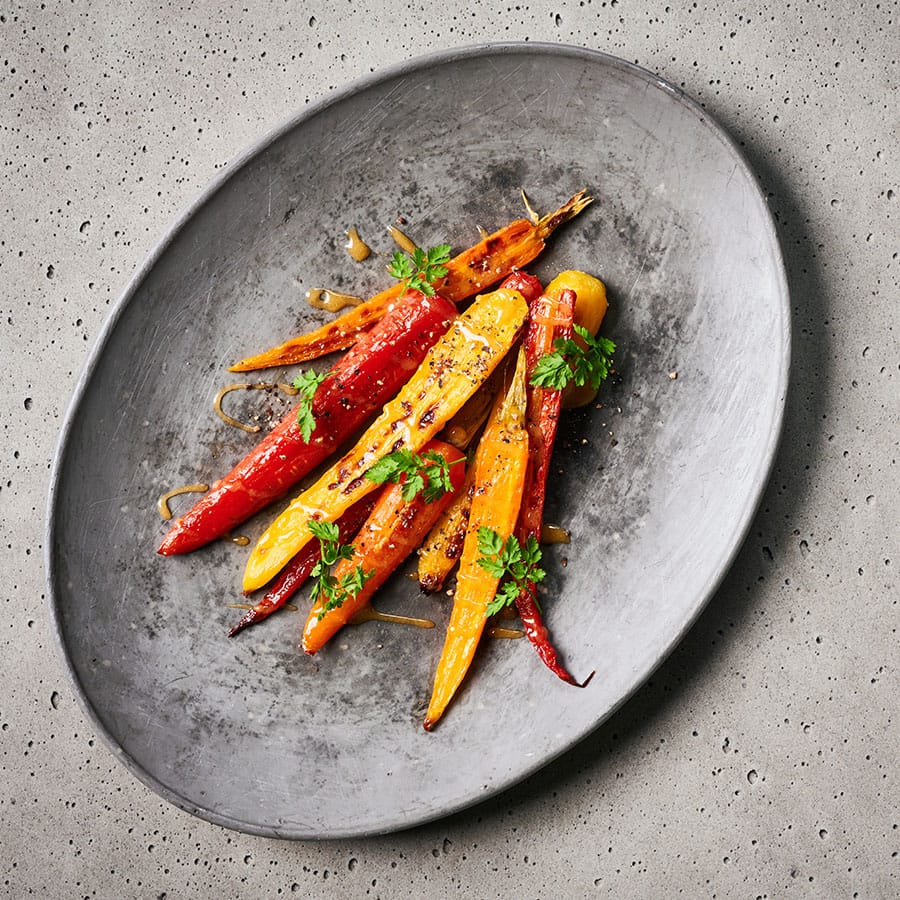 Carrot deluxe!
The fine Manuka honey ennobles the roasted carrots from the oven with Kampot pepper and chervil
Our tip:
The carrots taste great with (Wagyu) steaks, but can also be served alone as a vegetarian dish with mashed potatoes and lightly salted crème fraîche.
ingredients
6-8 slender, colorful carrots

salt

olive oil

Kampot pepper

Some chervil tips (also great with basil, coriander or dill)
preparation
Peel the carrots and cut in half lengthwise, salt and leave to stand for an hour. The carrots become a little softer and take the salty seasoning well.
Turn the oven to 220 degrees. Mix the carrots with a little olive oil and place on a baking tray lined with baking paper. Roast in a hot oven for 30 minutes.
Heat Imperial Manuka Honey slightly, stir until creamy and pour over the carrots. Season with freshly ground Kampot pepper and serve topped with chervil.
Bestellen Sie online: Kaviar, Wagyu, Saucen – Lieferung in 24h.
Unsere Liebe zum Produkt spiegelt sich in unserer gesamten Arbeit wider: Vom ausgezeichneten Geschmack jedes einzelnen Kaviars bis zum komfortablen Kundenservice sowie einer Lieferung binnen 24h. 
Weitere Rezepte rund um unsere Produkte
Unsere Kaviar-Kreationen, Imperial Wagyu, Saucen und weitere Produkte benötigen nicht viele Zutaten und sind genau deshalb wahre Gaumenfreuden. Vor allem setzen sie unsere großartigen Delikatessen perfekt in Szene. Begeistern Sie sich – und Ihre Gäste!
Filet Entrecôte Shimofuri with grated radish, ponzu shoyu, flake salt and sancho pepper Preparation time: approx. 20 minutes Entrecote in …