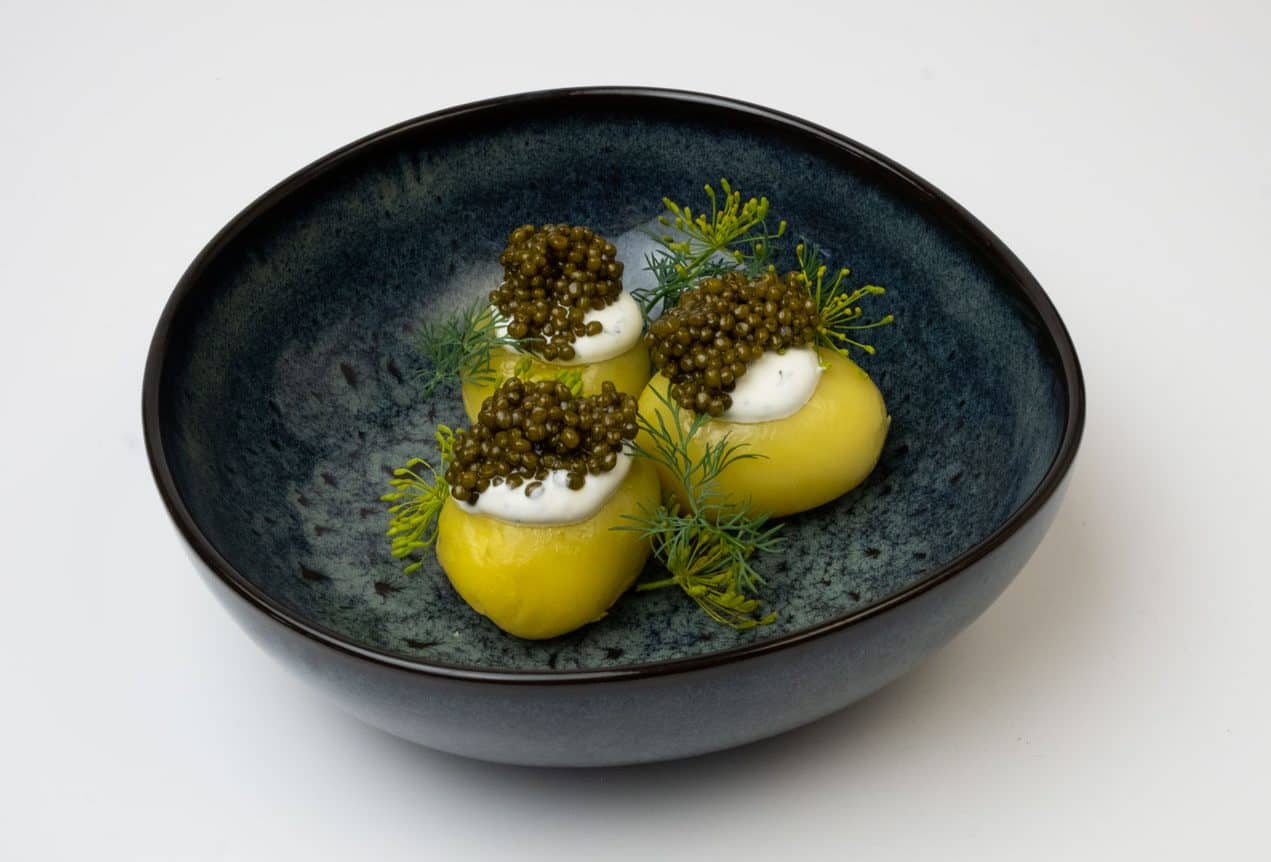 Jacket potatoes with caviar and dill sour cream
Preparation time: approx. 5 minutes
The perfect staging!
The particularly practical thing about excellent caviar: it doesn't need much else. Here, warm jacket potatoes and dill sour cream create the stage for the really big performance!
Our tip:
The potato should also be of the best quality for this simple dish. It is not so important whether you choose "waxy" or "predominantly waxy" potatoes – good taste is important, preferably a regional potato from a farmer's hand. We recommend, among others, organic Linda, Sieglinde, Cilena, Ditta, Nicola – and also specialties such as the Bamberg croissants or the French La Ratte potato.
ingredients
12 small-medium sized potatoes of best quality*
salt
3-4 sprigs of dill (+ the dill tips for serving, optional: some dill flowers)
200 g sour cream
vegetable oil (optional)
125-150 g caviar ( e.g. Ossetra or Imperial Auslese )
preparation
Cook the potatoes in boiling salted water for 12-20 minutes, depending on their size, until al dente. Finely chop the dill, add to the sour cream, stir the sour cream until creamy. Just lightly salt.
Drain the potatoes, cool briefly in cold water and peel. Optionally, briefly mix the potatoes with vegetable oil for a nice shine.
Serve the warm potatoes with sour cream and dill tips (optionally also dill blossoms), topped with caviar and serve immediately.
Bestellen Sie online: Kaviar, Wagyu, Saucen – Lieferung in 24h.
Unsere Liebe zum Produkt spiegelt sich in unserer gesamten Arbeit wider: Vom ausgezeichneten Geschmack jedes einzelnen Kaviars bis zum komfortablen Kundenservice sowie einer Lieferung binnen 24h. 
Weitere Rezepte rund um unsere Produkte
Unsere Kaviar-Kreationen, Imperial Wagyu, Saucen und weitere Produkte benötigen nicht viele Zutaten und sind genau deshalb wahre Gaumenfreuden. Vor allem setzen sie unsere großartigen Delikatessen perfekt in Szene. Begeistern Sie sich – und Ihre Gäste!
Manuka honey carrots from the oven Preparation time: approx. 10 minutes (+ 1 hour salt time for the carrots, 30 …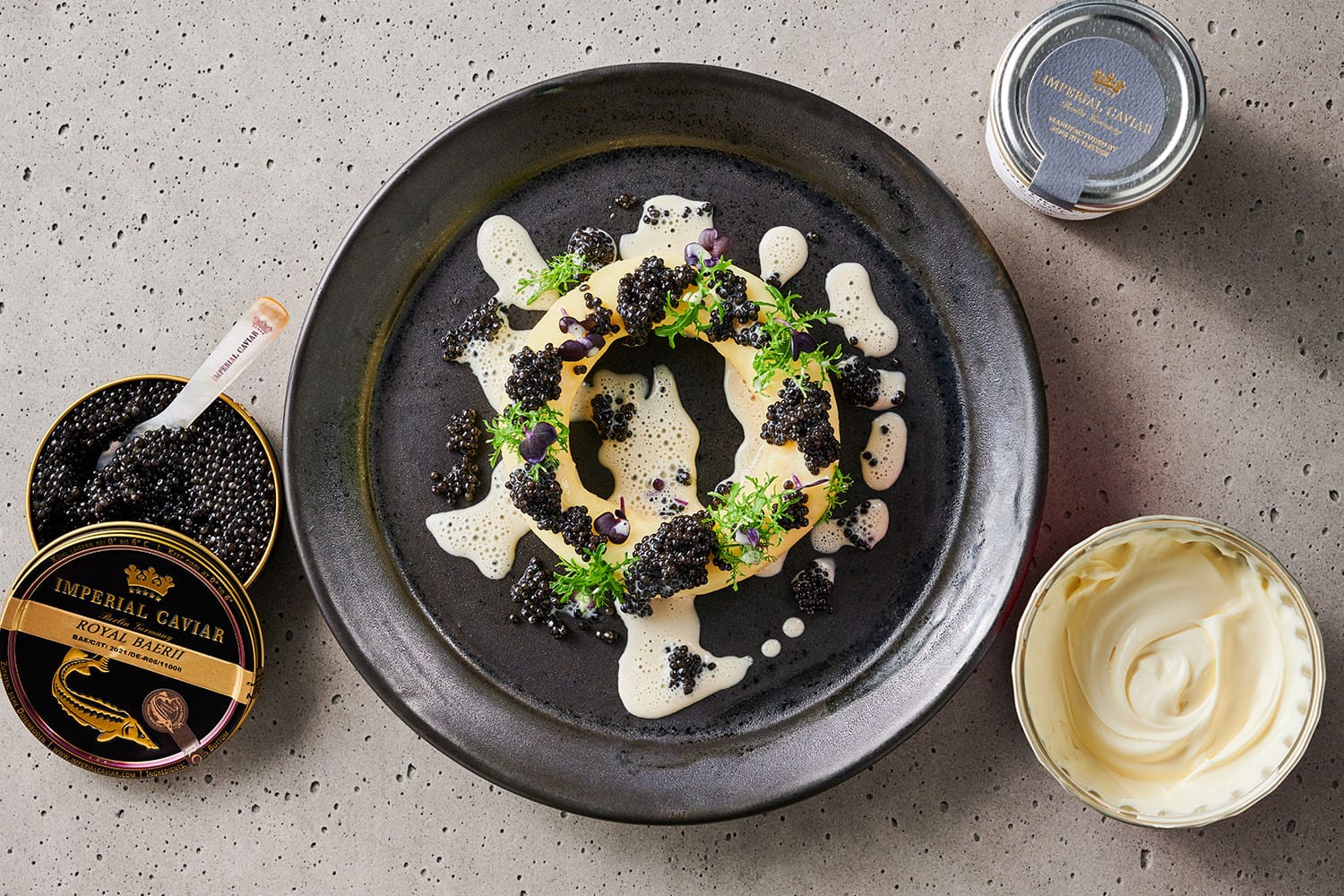 Crème fraîche potato cream with Royal Baerii caviar and Rittmeyers yuzu lime sauce Preparation time: 25 minutes (plus time to …
Quick spring onion tart with caviar Preparation time: approx. 25 minutes Puff pastry meets Ossetra Here, the interplay of taste …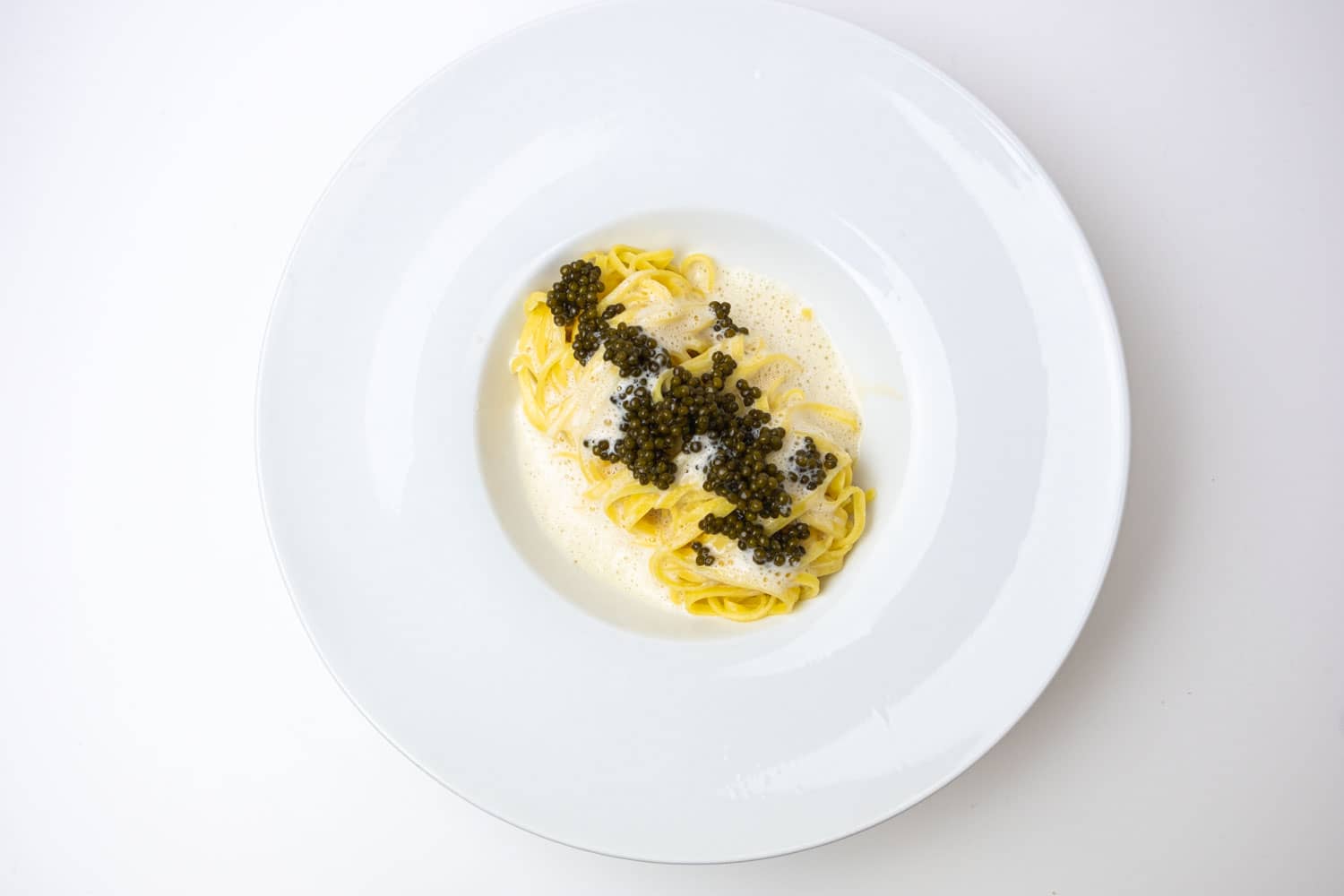 Spaghettini in cream with caviar Preparation time: approx. 35 minutes Reduced and elegant! A plate like from a good restaurant. …
Filet Entrecôte Shimofuri with grated radish, ponzu shoyu, flake salt and sancho pepper Preparation time: approx. 20 minutes Entrecote in …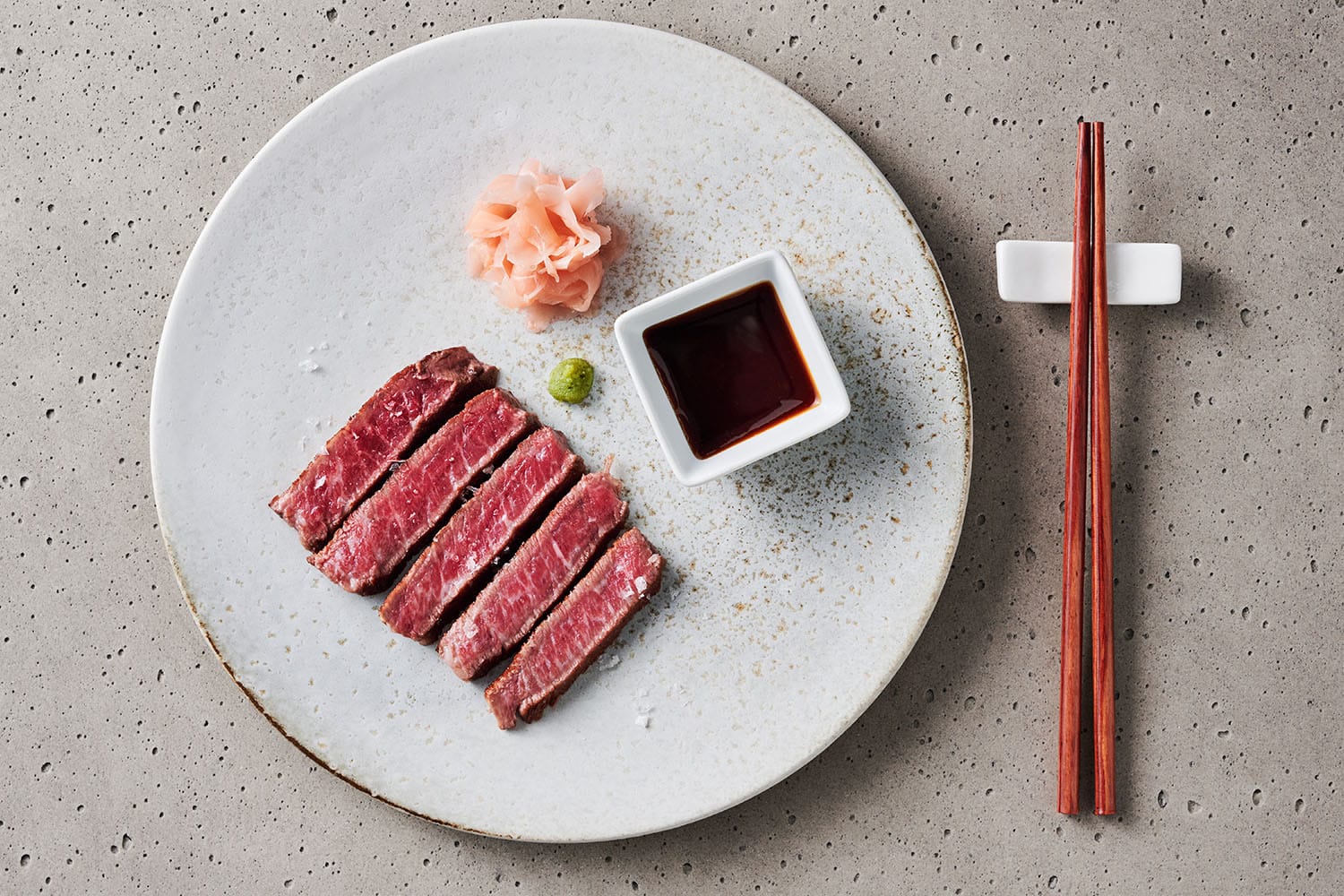 Wagyu Chateaubriand "Tataki-Style" with soy sauce house blend Preparation time: approx. 15 minutes Wagyu Tataki Only briefly fried for a …