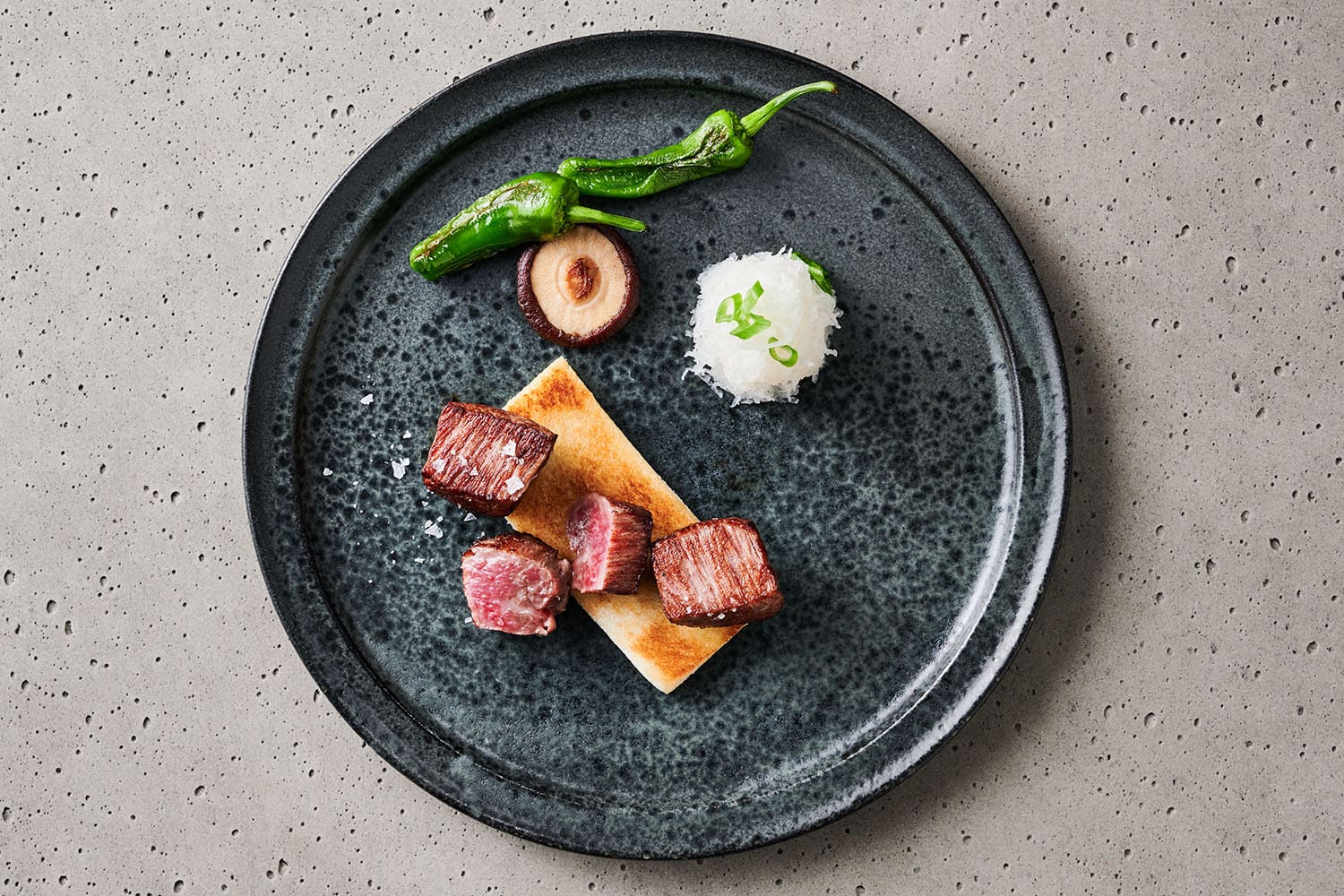 Imperial Wagyu Filet Mignon "Teppann Yaki Style"
Preparation time: approx. 20 minutes
Wagyu Mignon "Teppann Yaki Style"
The idea for this Wagyu preparation came from a Teppann Yaki restaurant in Miyazaki Prefecture, the home of our Wagyu Mignon Steaks. The brioche toast absorbs the tasty, valuable steak fat – it tastes heavenly! Grated white radish is a typical, refreshing addition to any kind of ribbed Wagyu.
Our tip:
For the best meat enjoyment in this simple recipe, the cutting technique during roasting is crucial – a sharp knife, grill tongs and a wooden board should be ready for this. If you like, you can also roast roasted peppers and shiitake mushroom caps on the Teppann Yaki Grill or the Plancha.
ingredients
200 grams of white radish

salt

1 stalk of green onions

2-4 slices of brioche toast

Fleur de Sel
preparation
Peel the radish, grate finely and salt lightly. Cut the spring onions into rings and put them in cold water.
Remove the crust from the brioche toast and cut into strips 4-5 cm wide. Heat the teppanyaki grill (alternatively the plancha, or a cast-iron pan) to high heat. Take the thawed meat out of the fridge, pat dry with kitchen paper and sear briefly on both sides.
Remove and cut in thirds lengthways, then, back on the roasting surface, sear the open sides of the steak pieces. Remove and cut into cubes, briefly fry the open sides of the cubes.
Remove the steak cubes, sprinkle with a little fleur de sel and leave to rest briefly on a preheated plate. Meanwhile, wipe out the plancha or pan with the toast strips, letting them lightly toast.
Arrange the steak cubes on the toast strips. Squeeze the radish dry and serve sprinkled with spring onions. Serve immediately.
Bestellen Sie Imperial Wagyu jetzt online – Lieferung in 24h.
Unsere Liebe zum Produkt spiegelt sich in unserer gesamten Arbeit wider: Vom ausgezeichneten Geschmack jedes einzelnen Cuts Imperial Wagyu bis zum komfortablen Kundenservice sowie einer Lieferung binnen 24h.
Weitere Rezepte rund um unsere Produkte
Unsere Kaviar-Kreationen, Imperial Wagyu, Saucen und weitere Produkte benötigen nicht viele Zutaten und sind genau deshalb wahre Gaumenfreuden. Vor allem setzen sie unsere großartigen Delikatessen perfekt in Szene. Begeistern Sie sich – und Ihre Gäste!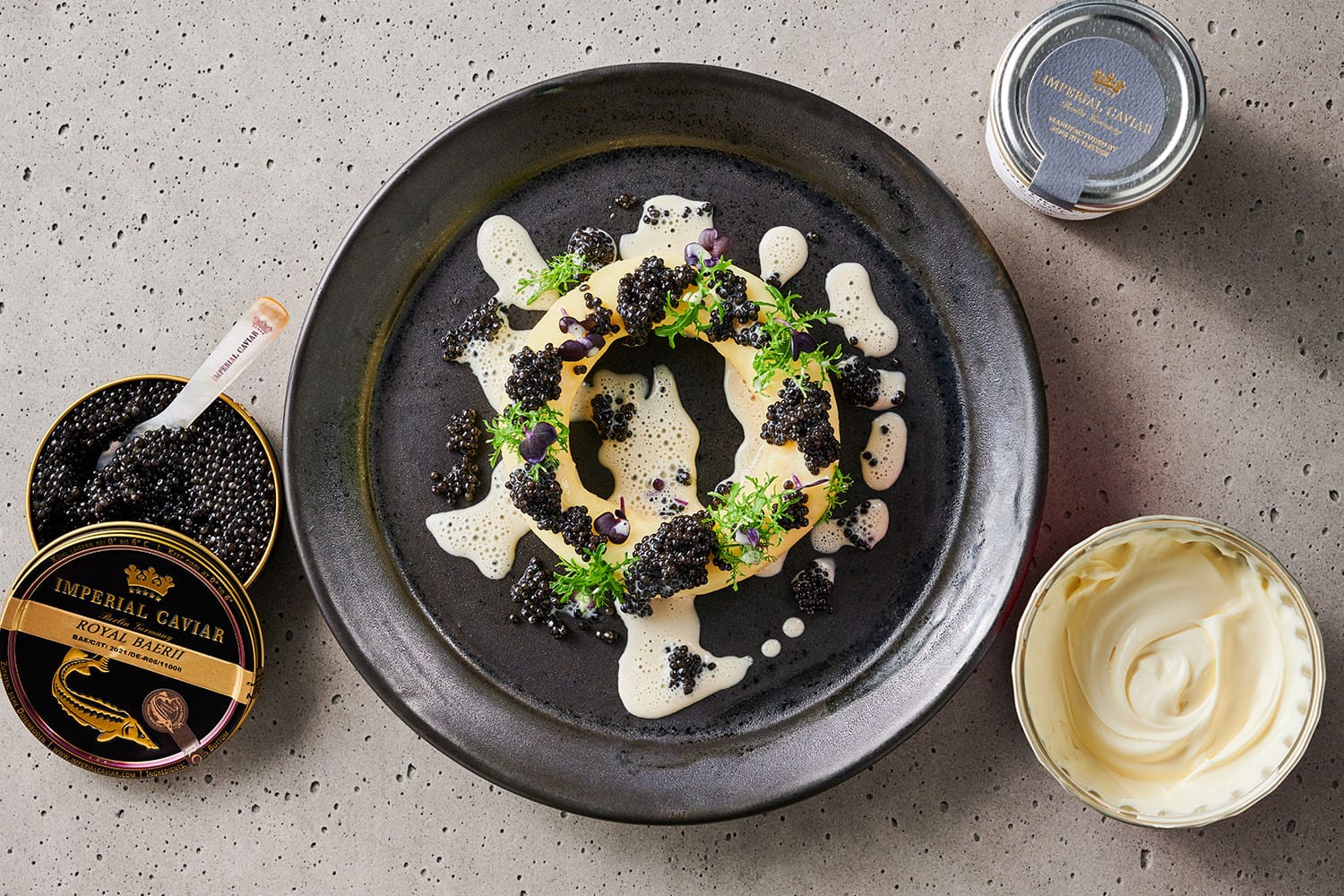 Crème fraîche potato cream with Royal Baerii caviar and Rittmeyers yuzu lime sauce Preparation time: 25 minutes (plus time to …