Grilled Akami Rump Steak with Grated Radish, Flake Salt and Sichimi Togarashi
Preparation time: approx. 15 minutes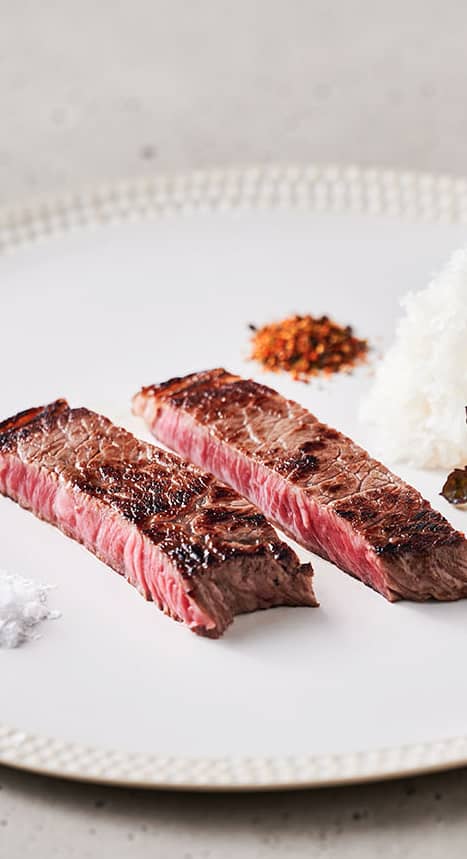 Rump steak with Japanese pepper mix
The Imperial Wagyu Akami in the rump steak cut is tenderly meaty. Fried briefly and cut into wide strips, this is a pleasure served with a little fleur de sel and grated radish. Freshly crushed or coarsely ground pepper is a popular addition to grilled Wagyu – we think the Japanese pepper mixture Sichimi Togarashi is also great!
Our tip:
Tips and tricks for the perfect preparation of Imperial Wagyu can be found here . Sichimi Togarashi or Nanami Togarashi are classic Japanese pepper mixtures with chili, orange peel, Szechuan pepper and black sesame in different compositions – available in organic supermarkets or Asian shops. Slightly cooked vegetables such as green asparagus with roasted sesame also go well with the steak.
ingredients
200 grams of white radish

some red mizuna salad

salt

Fleur de Sel

Sancho pepper

Sushi Ginger
preparation
Peel the radish, grate finely and salt lightly. Pluck mizuna. Heat the hot pan, the teppanyaki grill strongly. Take the thawed meat out of the fridge, pat dry with kitchen paper and sear on both sides for 1.5-2 minutes.
Squeeze the radish dry. Take out the steak, cut into slightly wider strips and arrange on preheated plates with fleur de sel, Sichimi Togarashi radish and mizuna and serve immediately.
Bestellen Sie Imperial Wagyu jetzt online – Lieferung in 24h.
Unsere Liebe zum Produkt spiegelt sich in unserer gesamten Arbeit wider: Vom ausgezeichneten Geschmack jedes einzelnen Cuts Imperial Wagyu bis zum komfortablen Kundenservice sowie einer Lieferung binnen 24h.
Weitere Rezepte rund um unsere Produkte
Unsere Kaviar-Kreationen, Imperial Wagyu, Saucen und weitere Produkte benötigen nicht viele Zutaten und sind genau deshalb wahre Gaumenfreuden. Vor allem setzen sie unsere großartigen Delikatessen perfekt in Szene. Begeistern Sie sich – und Ihre Gäste!
Quick spring onion tart with caviar Preparation time: approx. 25 minutes Puff pastry meets Ossetra Here, the interplay of taste …