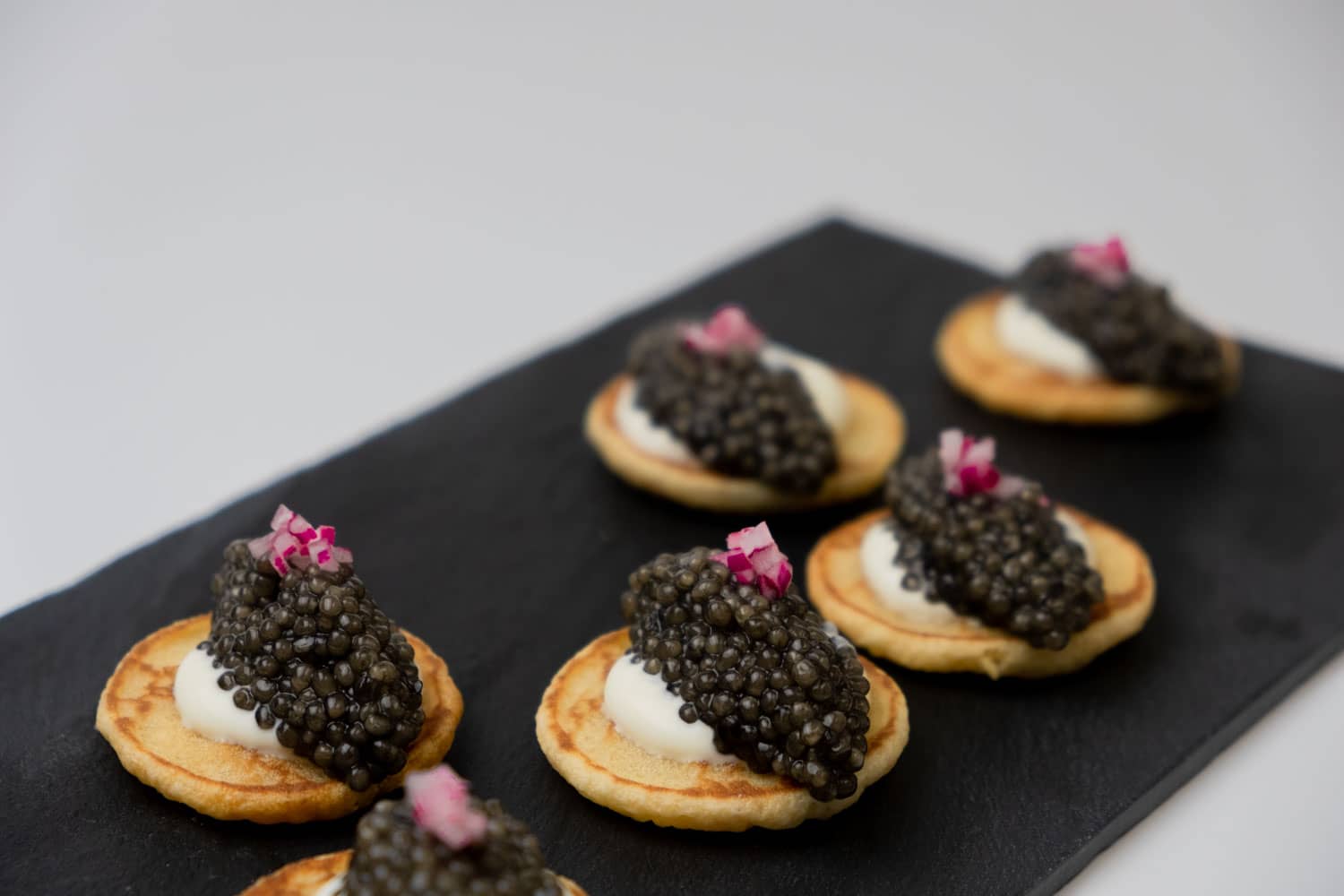 Caviar with crème fraîche, red shallots and warm blinis
Preparation time: approx. 5 minutes. For 16 blinis.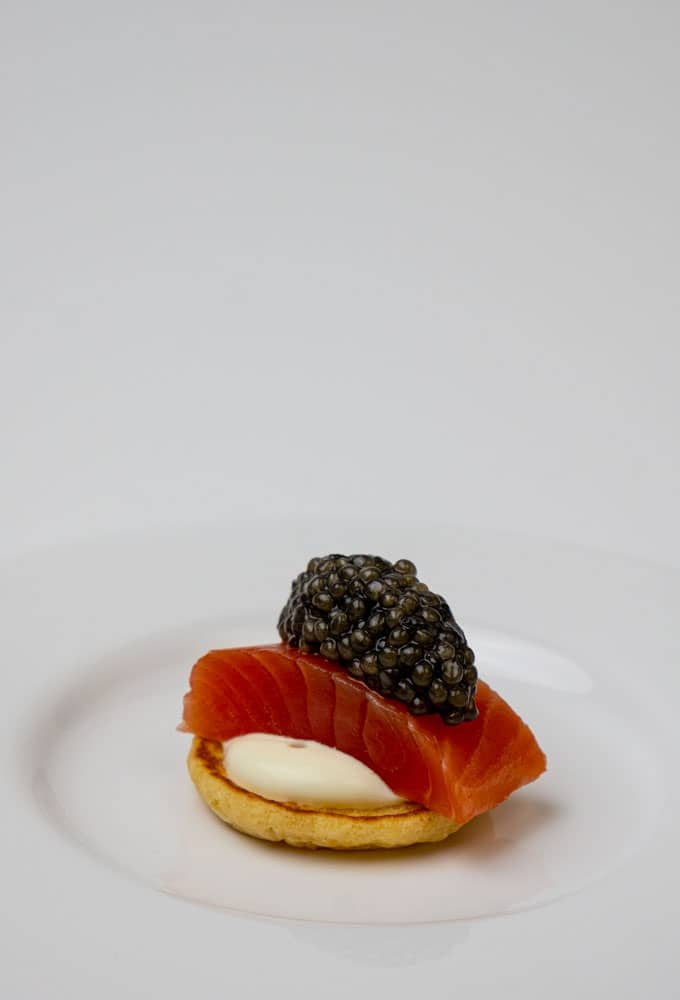 The classic. With twist!
It is an old Eastern European tradition to serve onions with caviar – today this is disputed due to the strong aroma of some onions. In this recipe, finely diced red shallots, mildly acidified with a hint of wine vinegar, set a pointedly fresh accent, in combination with oven-warm blinis and creamy caviar.
If you like, you can add a luscious tranche of Balik salmon under the caviar dumpling.
Our tip:
It is best to use two mother-of-pearl or melamine teaspoons and a bowl of water to shape the dumplings. Heap a portion of caviar on a moistened spoon, scoop it up with the second spoon and twist it into shape. The cam changes 2-3 times on the spoon surfaces until the perfect shape is achieved. Slide the cam onto a blini, then briefly rinse the spoons in the water and repeat the process. It's getting easier and easier…
preparation
Turn the oven to 80 degrees. Peel the shallot, cut in half lengthways and dice as finely as possible. Season and refresh with a touch of salt and a few drops of red wine vinegar. Put aside.
Place the blinis in the oven on a baking sheet lined with parchment paper and warm for a few minutes. Place a dot of creamy crème fraîche in the middle of each blini.
Form dumplings from the caviar (see tip) and place on the blinis. Top with a pinch of shallots and serve immediately
Bestellen Sie online: Kaviar, Wagyu, Saucen – Lieferung in 24h.
Unsere Liebe zum Produkt spiegelt sich in unserer gesamten Arbeit wider: Vom ausgezeichneten Geschmack jedes einzelnen Kaviars bis zum komfortablen Kundenservice sowie einer Lieferung binnen 24h. 
Weitere Rezepte rund um unsere Produkte
Unsere Kaviar-Kreationen, Imperial Wagyu, Saucen und weitere Produkte benötigen nicht viele Zutaten und sind genau deshalb wahre Gaumenfreuden. Vor allem setzen sie unsere großartigen Delikatessen perfekt in Szene. Begeistern Sie sich – und Ihre Gäste!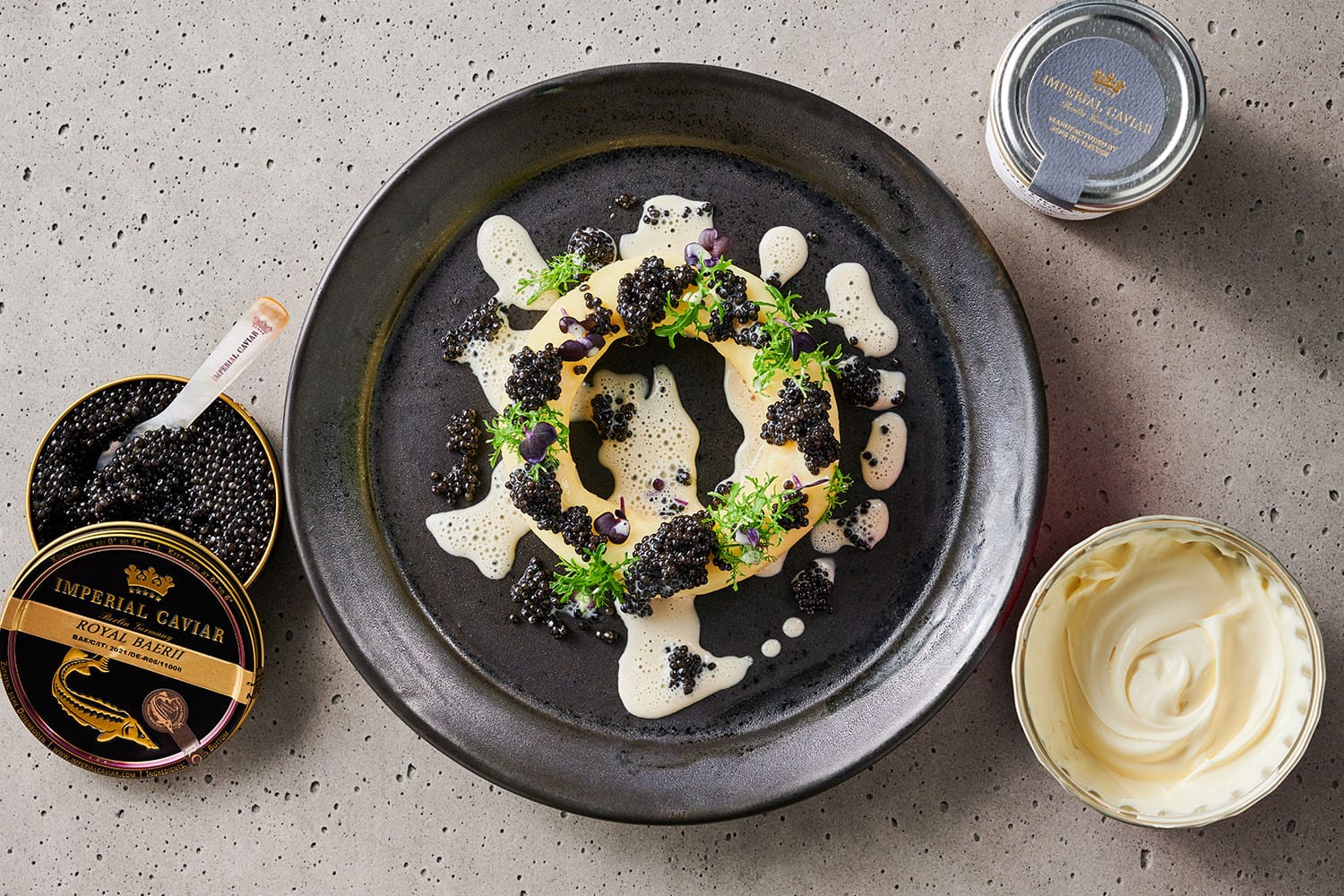 Crème fraîche potato cream with Royal Baerii caviar and Rittmeyers yuzu lime sauce Preparation time: 25 minutes (plus time to …