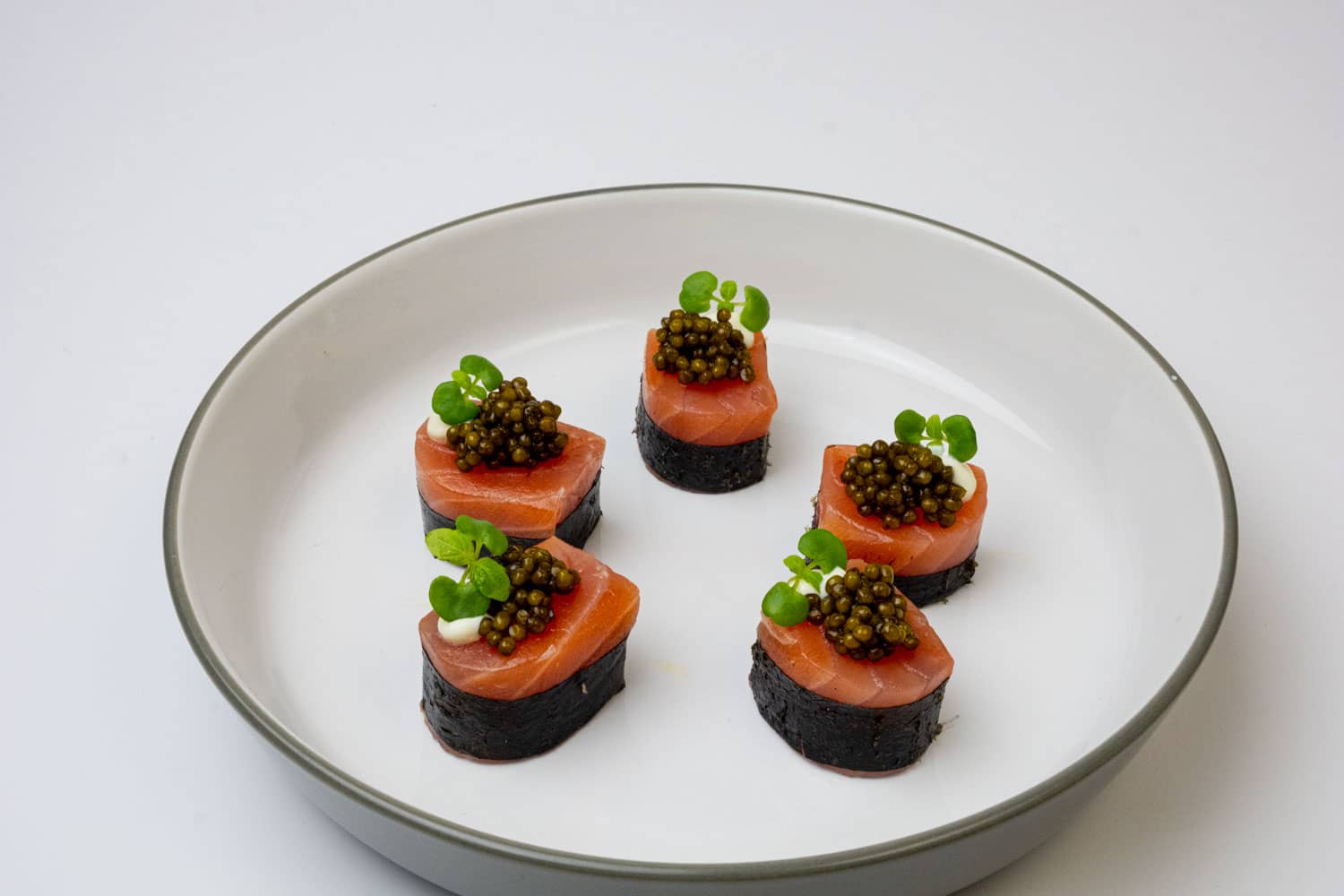 Caviar confectionery "Nippon"
Preparation time: approx. 20 minutes
These small finger food works of art are easy to make and taste outstanding – here the finest Balik salmon and Baerii caviar come together, nori and wasabi set Japanese accents.
Our tip:
The standard size 20 x 18 cm nori sheets that are readily available in Germany are often made from purple seaweed that has been chopped up, dried, pressed and roasted. Good quality nori sheets are not translucent. Once opened, nori sheets soften with humidity. The best way to store nori sheets is in a tightly sealed storage jar. Leaves that have become softer can also be dry-roasted in a pan without fat; they become crispy again and develop their aroma again.
ingredients
1 strand of Balik salmon (250 g)

1 sheet of nori (see tip)

60 g crème fraîche

1-2 pinch Wasabi Paste

some green daikon cress (either red daikon cress, shiso cress or chervil)
preparation
Cut the Balik salmon fillet into eight strips, each about 2.5 cm wide. Cut them in half and place the pieces cut-side up on the work surface. Cut the nori sheet into 16 strips, each approx. 1 cm wide, this works best with kitchen scissors.
Mix the crème fraîche with the wasabi until smooth, only lightly salt. Fill the cream into a piping bag with a small nozzle. Wrap each piece of salmon in a nori strip, slightly overlap at the seam and seal with a dab of crème fraîche as "glue", cut off the protruding nori strip.
Top with caviar, decorate with a dollop of wasabi cream and a leaf of daikon cress.
Bestellen Sie online: Kaviar, Wagyu, Saucen – Lieferung in 24h.
Unsere Liebe zum Produkt spiegelt sich in unserer gesamten Arbeit wider: Vom ausgezeichneten Geschmack jedes einzelnen Kaviars bis zum komfortablen Kundenservice sowie einer Lieferung binnen 24h. 
Weitere Rezepte rund um unsere Produkte
Unsere Kaviar-Kreationen, Imperial Wagyu, Saucen und weitere Produkte benötigen nicht viele Zutaten und sind genau deshalb wahre Gaumenfreuden. Vor allem setzen sie unsere großartigen Delikatessen perfekt in Szene. Begeistern Sie sich – und Ihre Gäste!
Filet Entrecôte Shimofuri with grated radish, ponzu shoyu, flake salt and sancho pepper Preparation time: approx. 20 minutes Entrecote in …