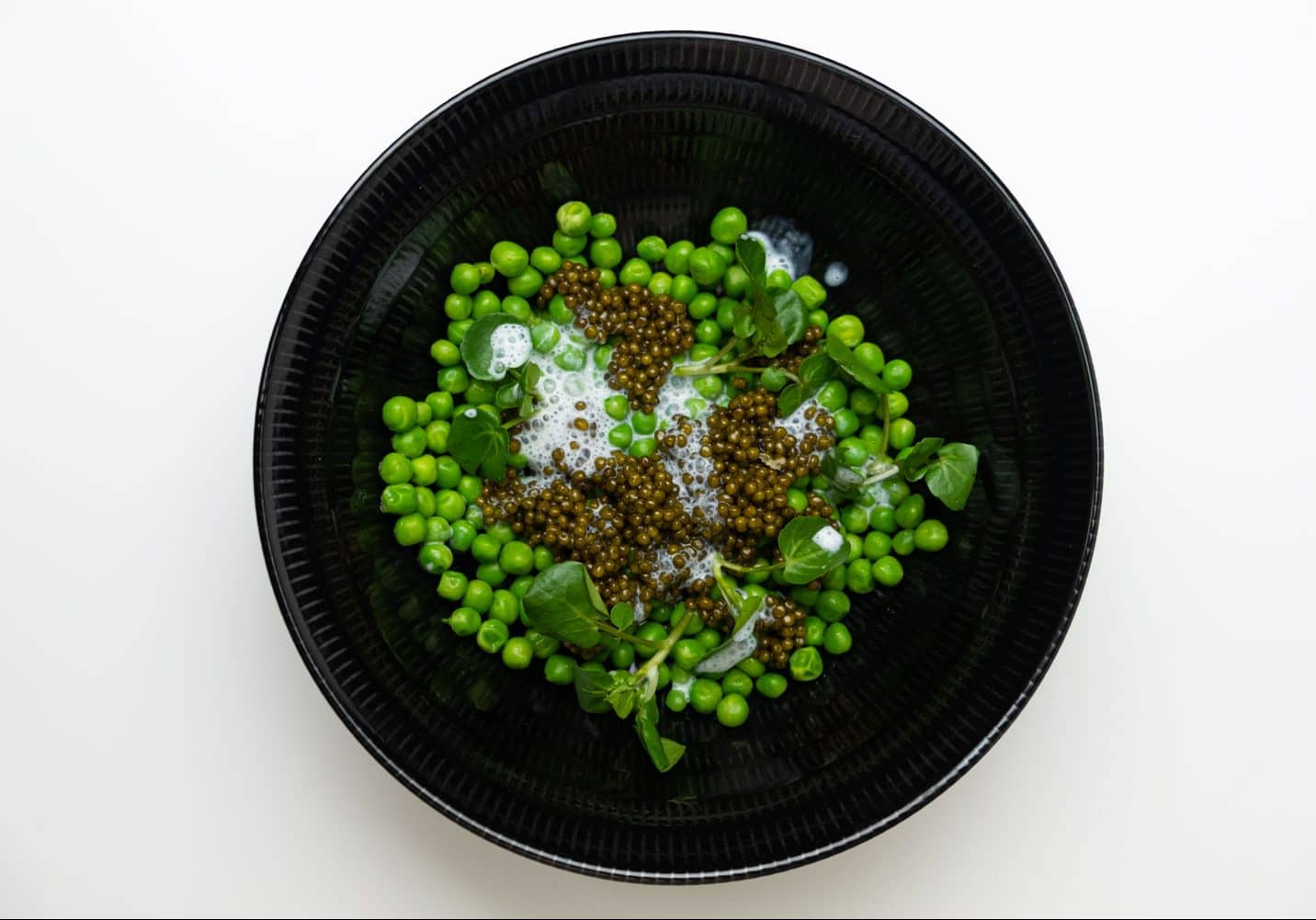 Buttered Green Peas with Imperial Caviar and Kefir
Preparation time: approx. 25 minutes
Nordic Peas & Imperial Selection
A wonderfully spring-like combination, inspired by Nordic cuisine – and a real surprise: the buttery sweetness of the crunchy peas goes well with the delicately salty aromas of the caviar, refreshingly served with a light foam of cool kefir.
Our tip:
During the pea season in spring and summer, it's worth picking fresh peas from the pod – they taste sweet and crunchy even raw and only need to be cooked a little. Rule of thumb: 500 g fresh pea pods yield approx. 200 g peas.
ingredients
150 ml mild clear vegetable broth

40 grams of butter

500 g pea pods* or approx. 200 g frozen peas, defrosted

6 tablespoons of kefir

lemon juice

salt

optional: a handful of baking cress (optional: dill tips, borage blossoms, chervil)

200-250 g Imperial Selection
preparation
Bring the broth and butter to the boil in a saucepan, add the peas and simmer gently, uncovered, for 5 minutes. Refine kefir with a squeeze of lemon juice and a touch of salt.
Place the peas in deep bowls and leave to cool until lukewarm. Pluck the watercress tips.
Before serving, puree the kefir with the cutting stick until fluffy and fluffy. Top the peas with caviar and add watercress. Spoon some kefir foam over it and serve immediately.
Bestellen Sie online: Kaviar, Wagyu, Saucen – Lieferung in 24h.
Unsere Liebe zum Produkt spiegelt sich in unserer gesamten Arbeit wider: Vom ausgezeichneten Geschmack jedes einzelnen Kaviars bis zum komfortablen Kundenservice sowie einer Lieferung binnen 24h. 
Weitere Rezepte rund um unsere Produkte
Unsere Kaviar-Kreationen, Imperial Wagyu, Saucen und weitere Produkte benötigen nicht viele Zutaten und sind genau deshalb wahre Gaumenfreuden. Vor allem setzen sie unsere großartigen Delikatessen perfekt in Szene. Begeistern Sie sich – und Ihre Gäste!
Manuka honey carrots from the oven Preparation time: approx. 10 minutes (+ 1 hour salt time for the carrots, 30 …
Grilled Akami Rump Steak with Grated Radish, Flake Salt and Sichimi Togarashi Preparation time: approx. 15 minutes Rump steak with …
Quick spring onion tart with caviar Preparation time: approx. 25 minutes Puff pastry meets Ossetra Here, the interplay of taste …
Filet Entrecôte Shimofuri with grated radish, ponzu shoyu, flake salt and sancho pepper Preparation time: approx. 20 minutes Entrecote in …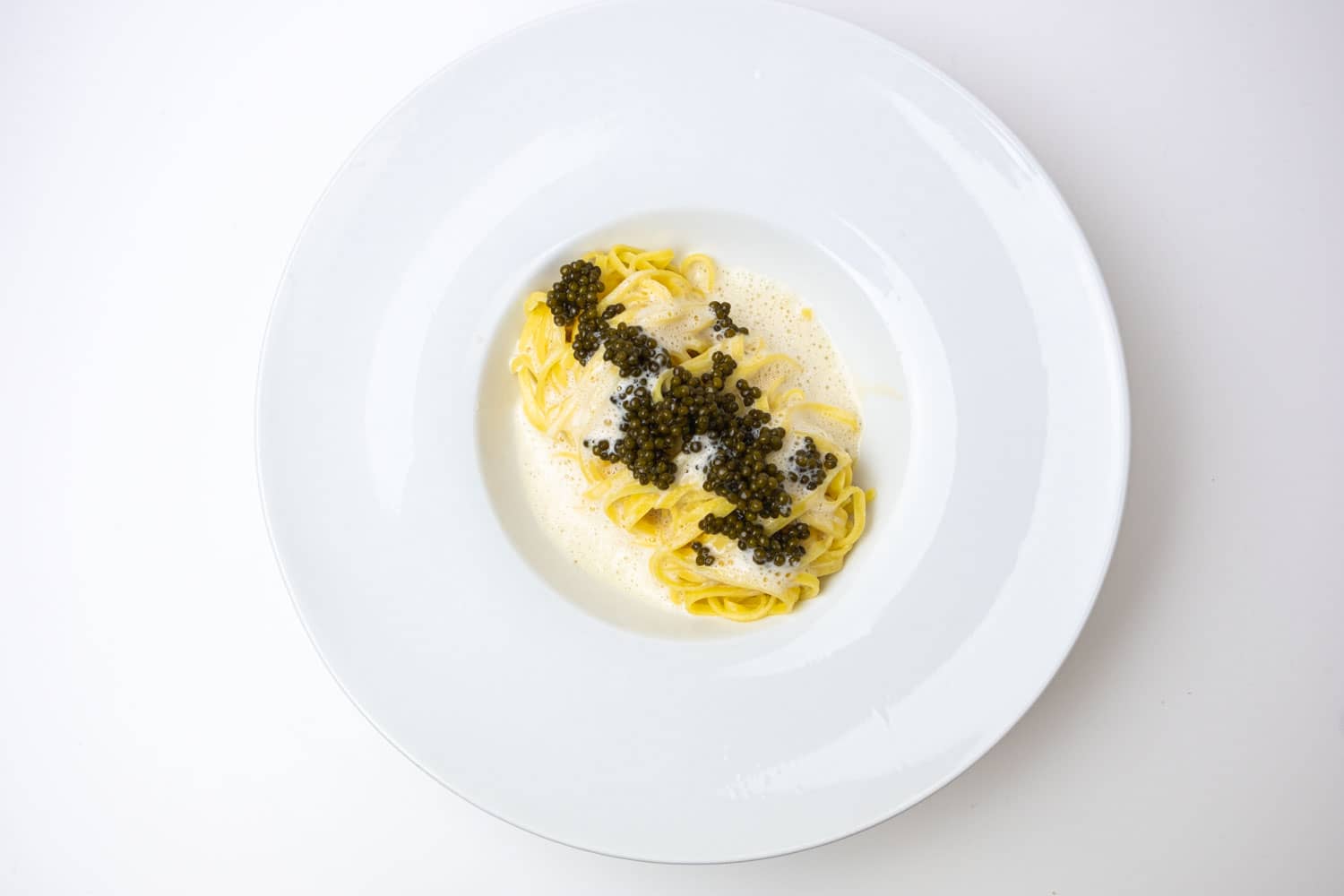 Spaghettini in cream with caviar Preparation time: approx. 35 minutes Reduced and elegant! A plate like from a good restaurant. …
Grilled Akami Rump Steak with Grated Radish, Flake Salt and Sichimi Togarashi Preparation time: approx. 15 minutes Rump steak with …